You are here

Our Philosophy
Our Philosophy
Our philosophy is simple. We want to get to know you in order to help you make the best decisions possible.
As a firm, our focus is to understand your goals and develop a plan to reach them. We will meet with you to present an analysis and discuss our recommendations. Together, we implement the recommendations and monitor your progress. From here, we will plan regular meetings with you to assess the progress toward your goals and, when necessary, we will make adjustments to your financial plan.
Because there are many factors that may change in your situation or the environment, it's of the utmost importance to us to be proactive and knowledgeable in the financial industry. We are committed to staying up-to-date on relevant topics in order to provide you with the best financial advice for your particular situation.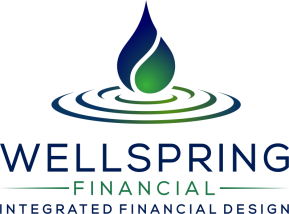 Clients have asked about the origin of the name of our firm and the Wellspring Financial logo.
Wellspring refers to the origins of a deep bountiful source or continuing flowing supply. The imagery of water represents not only life and abundance, but how wealth flows through our lives.
One of our main principles is related to the flow of money in our own personal and global economies. The economic principle of the velocity of money measures how money moves, at what rate of speed and our ability to harness that motion to create multiple benefits from each dollar of wealth or income.
As the water drop strikes the surface we are reminded that every financial decision we make is like throwing a pebble into a pond which creates ripples. Some of those ripples will be advantageous to our financial world and some will not.
Our practice is about identifying, understanding and measuring those ripples to analyze if our financial decisions are being integrated and coordinated with the goal of increasing benefits and enjoyment. We attempt to take advantage of the good ripples and smooth out the turbulent ones.
Finally, the water drop itself is reminiscent of the universal sign of balance, Ying - Yang. The ancient philosophical belief that seemingly opposite and contrary forces are actually interrelated. Balance is important to all aspects of our lives, including financial planning. A key component of our strategy is to use the positive attributes of one asset to offset the negative attributes of another – with the ultimate goal of increasing Happiness, Wealth and Success.